Artisan Gallery ceramicist Peter Pincus was recently featured in American Craft Magazine in a full article that takes a look at how Peter began and the work that he is creating currently.
Photo by Matt Wittmeyer
The article includes high resolution images of Peter's work as well as an additional article explaining his 12-Step process in working with porcelain.
---
View fullsize
Urns by Peter Pincus
View fullsize
Bottles
View fullsize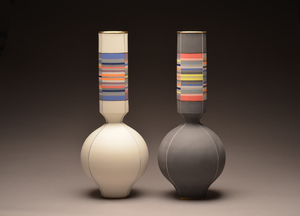 Vases
For more information about Peter or his work you can head to his Artist Page. For a list of available works please Contact the gallery.