The ever-changing scope of contemporary art is one that has always interested me. The landscape is always linear, but fractured. Paths branch off at different junctures, but also find ways to rejoin, often in unexpected ways. When I look at Libby Rosa's painting, Interior Space, I see not just the piece, but the layers of influence that developed in the world of portraiture before her. Also important to consider is how this generation of artists will influence work to come.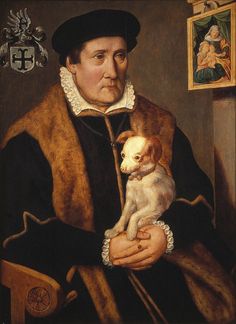 Not Libby Rosa - Anonymous Dutch
For a few thousand years, give or take, portraiture was centered around the nobility. They were first and foremost symbols of power and influence. This originates from the period immediately prior wherein if there was a figure in a work of art they better damn well be of religious significance. The wealthy of the 16th century realized that their money was excellent at convincing artists to paint them in addition, and often in tandem with those same religious figures.


In the time of the Italian Renaissance, artists had begun to realize that the common person could be an interesting, important subject. However, it was only done anonymously, often with political intent, and almost always funded by those same wealthy benefactors. The trend of politicized characters continued into the 19th century neo-socialist movement, but also branched into humanist portraits, as well as the popularization of the self-portrait.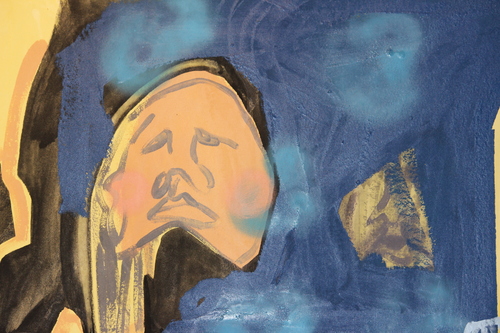 Interior Space (Detail)
Contemporary portraiture finds itself in a place of continued development of these ideas. Concepts of what makes a person, and how internal and external factors can be displayed in unorthodox ways. The location has always served as allegory to varying degrees, but in Rosa's work the human reference is all but anonymous without the context provided by their environment. Fragments of furniture entwine with limbs, outlines and color blocks mix into an ethereal composition. The mask-like face seems almost a stand-in for the human, and the features exist in a transitory state.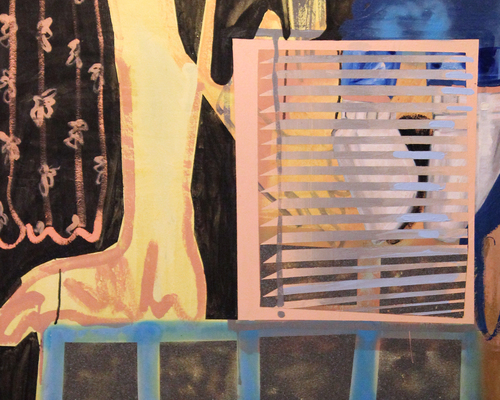 Interior Space (Detail)
There is a removal to the piece, and the framing curtains set the viewer back as an on-looker into this scene. A firmly constructed lattice sits front and center overlapping the figure, and a filter of spray paint patterns obfuscates our view. l In this way it feels like a transfigured snap-shot of the short film by Aaron Granat that accompanies it. We are peering in, attempting to draw meaningful conclusions about who this person is from a very limited set of information. That limited set has been further abstracted, pushing the limits of our ability to interpret. Interestingly enough, that's the sort of thing we've been looking to do since the 1500s.
We attempt to connect, and pull forth any sense of personhood, of status, gender, race from whatever we are given. In that sense the piece presents itself as a challenge.
What exactly can you get from it.
Aedric Donovan
Gallery Associate