For almost forty years, Charles Munch has lived on 220 acres of pristine forest and grassland close to Lone Rock in Wisconsin's Driftless region. Drawing inspiration from his untamed surroundings, Munch has established himself as one of the most insightful artists working today on environmental issues in Wisconsin.

Between the Lines will feature thirty paintings from four decades that trace Munch's evolution from pure landscapes to vividly imagined narratives that explore the often complex relationships between humans, animals, and their interactions with the natural world. It is, in fact, the presence—and interaction—of humans and animals that take center stage in his dramatic vignettes. Although sometimes serene and in harmony, often his forest actors are threatened or confrontational and the outcome is uncertain. The paintings are frequently deliberately ambiguous or open-ended as Munch acknowledges that there are opinions besides his own and that some of the issues he addresses will remain unresolved. He avoids moral dictums: "I want my works to stimulate conversation and to encourage a variety of viewpoints."

Munch's paintings are deceptively simple. Since the early 1990s, he has shifted from a traditional realism to a linear, graphic style informed by comic books and commercial advertising. Bright colors, clearly defined lines, and bold, readable subjects are hallmarks of his current work. He eliminates unnecessary details and carefully composes each painting with the landscape as the principal backdrop for an unfolding narrative that often packs the visual punch of a graphic cartoon though with none of the inherent humor.


The exhibition will include seminal early works such as Blood Rain (1987), which deals with the effect of acid rain on the landscape, and Boundary Issues (2003), which crystallizes the relationship between man and nature, symbolizing the conflict that can arise when the lines between their domains become blurred. Hush (featured on the cover) acknowledges the common ground between humans and animals while also invoking the viewer to quiet attention. Munch's largest and most recent work to date, Family Vigil (2018), finds the artist taking an extraordinarily optimistic and conciliatory approach to nature that suggests a Garden of Eden. Is this a vision of a lost past or a desired future? Viewers must decide for themselves
-from MOWA, link to the webpage
images courtesy of Abel Contemporary Gallery
Munch's exhibition at MOWA has already generated some great press: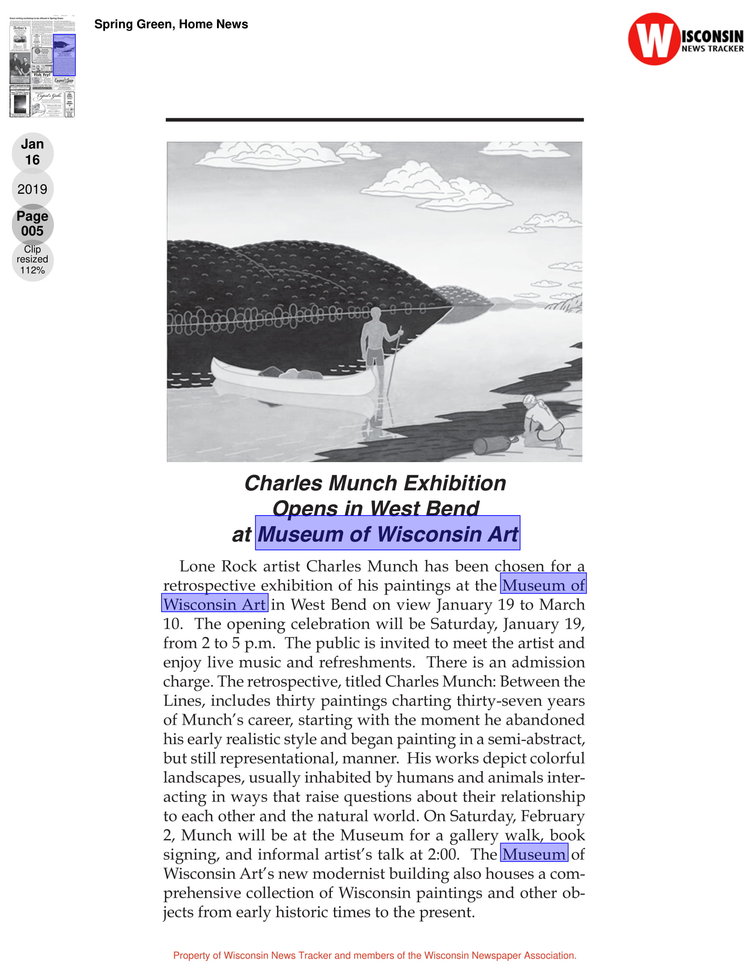 Source: http://wisconsinart.org/exhibitions/charles-munch-between-the-lines.aspx