Food and Craft: Group Show on view online and in the gallery until September 12th 2021.
This show explores the relationship between food and contemporary craft within our society. American opinions of how food should travel from field to table is beginning to change and the idea of buying local seasonal foods has been embraced by people who are concerned about what we eat and how our food choices reflect our values as a culture. The same can be said about the objects we surround ourselves with for everyday use. Handmade objects reflect the importance we place on the individual craftsperson including the history and tradition brought to what they create. We want to promote and explore the importance artists play in promoting these shifting cultural views.
In conjunction with our current group show, Food and Craft, a few of the participating artists shared recipes from their kitchens.
Shumpei Yamaki
Pan-Fried Steamed Miso Butter Salmon.
Ingredients:
Skinless salmon. 1lbs
1/8 head of small cabbage
1 cup of sliced mushrooms

Miso Sauce
2 tbsp Miso paste
2 tbsp Soy Sauce
2 tbsp Cooking Sake or Japanese Sake
1 tbsp Honey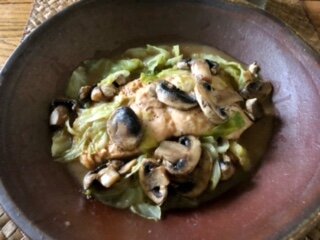 Directions
Heat a flying pan over moderate heat, add some butter.
Once the butter starts bubbling, add the salmon fillet to the pan.
Cook until golden brown.
Place sliced cabbage and mushroom around the salmon, then put the lid on the pan.
Steam for about 4 mins.
Flip the fillets over, then pour the sauce over the salmon and heat through about 3 mins longer.
Plate the salmon and enjoy the meal.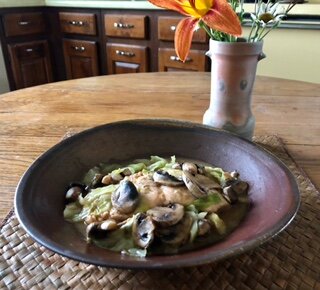 Reid Schoonover
Turkish Simits
Ingredients2 tsp. Instant yeast
1 tsp. Salt
1 Tblsp. Granulated sugar
4 Cups of all purpose flour plus 2-3 Tablsp. More if needed
1 1⁄2 Cup warm water
1⁄4 Cup vegetable oil (I have used avocado oil, works great!)
1⁄4 Cup grape molasses (some people use pomegranate molasses) 1⁄2 Cup water
1 1⁄2 Cup sesame seeds toasted (white or black)
Instructions
In the bowl of a stand mixer, mix sugar, yeast, 4 cups flour and salt.

Add in warm water and vegetable oil. Mix using the dough hook until the dough comes together and is a bit sticky. If the dough is not coming together, add 2-3 tablespoons all purpose flour.

Knead the dough using the dough hook for about 8 minutes until it's no long sticky.jk.Cover and let it rise of 1 1⁄2 hours until it doubles in size.

Meanwhile, toast the sesame seeds in a pan. Mix the molasses with 1⁄2 cup water.

After 1 1⁄2 hours, punch the dough down and divide it into 16 pieces. Roll out 2 pieces into25-inch tubes each and lay them parallel to each other.

Roll the tubes in opposite directions to make a twist. Meet the ends and pinch them together to make a ring. Repeat with the remaining 14 pieces to make 7 more rings.

Dip each ring in molasses and water mixture, then in sesame seeds and place on a baking sheet lined with parchment paper.

Cover loosely and let it rise for another 20 minutes.

Preheat the oven to 400 degrees F.

Bake in the oven for 12-15 minutes until the limits are brown and fully cooked.
Pat Schoonover's Apple Slices
Crust:
You can use any recipe you wish but I'm giving you my crust recipe here.5 cups flour
2 1⁄2 sticks butter (cold or frozen can be grated). 1 Cup shortening
(My basic ratio is 1 part fat to 2 parts flour).Cut the butter (cold or frozen butter can be grated into the flour) and shortening into the flour until quite fine. Add just enough ice water to pull the dough together. Just dribble the water in and mix until it comes together so you can handle it. It should not be sticky.

The Filling:

7-9 apples. I used Granny Smith mixed with other sweet and juicy apples such as Cameo, Fuji or Jazz. Peel and core the apples and slice thinly. If you use one of those tools that slices and cores an apple in one push, slice the slices in half, again.
1/2 cup (scant) of flour. Toss the apples in the flour – or, lightly stir.The following spices are "to taste". I tend to dump the spices in and sort of dump "by eye". 1 teaspoon cloves
1 1/2 teaspoon ground ginger
1 teaspoon allspiceNutmeg, freshly grated is best. Grate in to taste
2-3 heaping teaspoons of cinnamon (or more, you decide)
Sometimes I add Mace to all of this, too.
1 1/2 cups sugar
Toss apples with spice and sugar. My son, Ezra, came up with actually tossing the apples in a big bowl and we found that the ingredients are more evenly coated and less is left in the bowl. But I toss this outside, otherwise the kitchen gets coated!
Dust the rolling surface and rolling pin with flour (or use a rolling pin sock). Roll the dough out to fit the pan. I always find I need to patch my holes. This is a
very short crust and it melts wonderfully.
Put the apples in the dough lined pan and make sure theapples get to the corners and the filling is fairly even. This is why the apples are sliced somewhat thinly. Daub butter on top of the apples.Roll out the top crust and, after daubing water on the rim of the bottom crust, lay the top crust over and use a fork to secure the top and bottom crusts together all the way around; or, do a fancy crimping. Dip the fork in flour to keep it from sticking to the crust.Put foil underneath the pan and put in a preheated 425° Fahrenheit. Bake for about an hour until it is golden and filling is bubbly. Sometimes it takes a bit more and sometimes less. Depends on the day.
Icing:
1 1/2 cups powdered sugar
Juice from one orange (or enough for drizzly icing!) Zest from one orangeMix and add more powdered sugar if needed. Ezra usually mixes this if he is here to help. His rule of thumb is that if he can hold the bowl vertically and stir the icing and it does not drip out, it is ready for "drizzling." It is fairly viscous and in other cases might be spreadable. But for our purposes, it is ideal for drizzling over a warm pan of apple slices.Let cool a bit, slice and EAT!
Cate
Richards
Best Vegan Mac and Cheese
2 cups cashews, soaked in water for 2 hours
Juice from 1 lemon
3/4 cup water
1 TSP chili powder
1/2 TSP cayenne
1/2 TSP turmeric
3 cloves garlic (I like a little more, if you're into that)
1 TBS dijon mustard (You can up this a little too, if you like)
1/2 cup nutritional yeast
Dash of cumin (Optional)
16 oz pasta
Cook pasta
Blend all other ingredients in a food processor until smooth-ish
Mix
Good with a pile of veggies, and some vegan sausage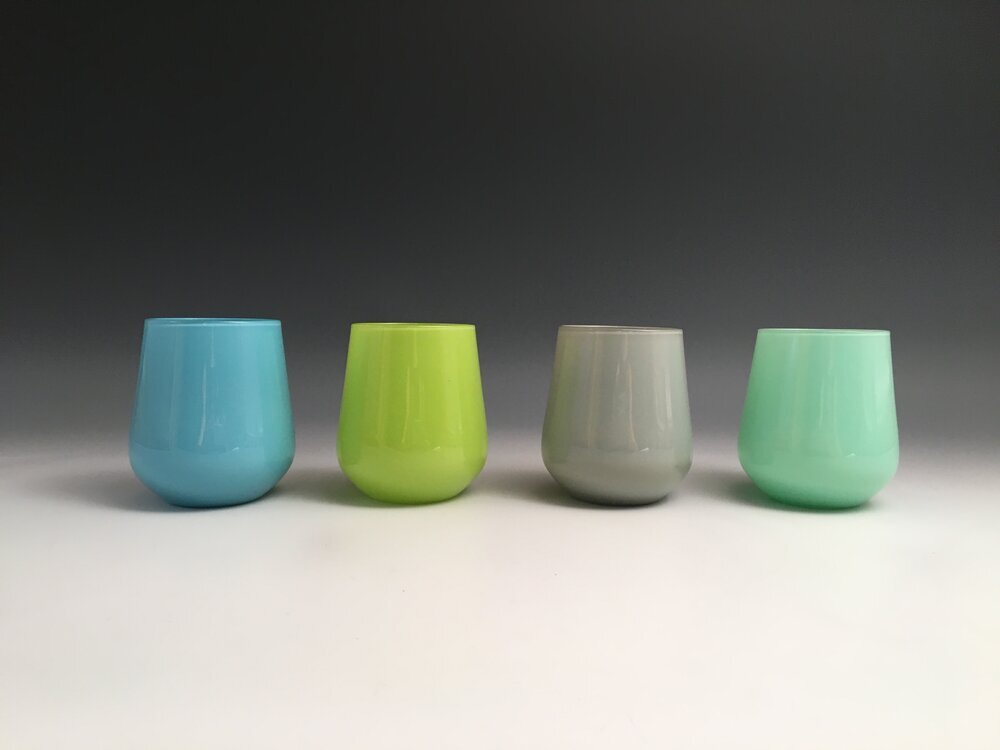 Courtney Dodd
VIEUX CARRE'
2 ounces rye whiskey
2 ounces cognac
1/2 ounce Benedictine
2 dashes Angostura bitters
2 dashes Peychaud's bitters
2 lemon twists
Stir liquids in a mixer with ice, strain into double rocks glasses.
Garnish with a twist of lemon, serve with friends.
Serves 2
BLACK MANHATTAN
4 ounces bourbon
2 ounce Averna
4 dashes Angostura bitters
Maraschino cherries for garnish
Combine ingredients in an ice-filled mixing glass and stir until cold.
Strain into chilled cocktail glasses and garnish with a maraschino cherry.
Serves 2
GIN GIN FIZZ
2 ounces dry gin
2 ounces ginger simple syrup
2 sprigs mint
Lime
Seltzer
Muddle 1 sprig mint, zest of lime, and ginger simple syrup. Add ice to mixer and stir.
Pour into highball glasses with ice cubes, top with seltzer, garnish with mint, serve with friends.
Serves 2
PIMMS CUP
2 ounces Gin
2 ounces Pimms No. 1
1 ounce lime juice
1 ounce simple syrup
6 dashes celery bitters
sliced cucumbers
Seltzer
Combine ingredients in an ice filled mixer and stir until cold.
Line Highball glasses with sliced cucumbers and fill with ice, then strain chilled cocktail mix into glasses. Top with Seltzer.
Serves 2
Tomato Charred Cabbage
1 head of green cabbage
1 can tomato sauce or 4 fresh tomatoes
4 Tablespoons Olive oil
Salt and pepper to taste
Cook down tomatoes on the stove until you have a concentrated 1/2 cup of reduced tomato sauce
Chop Cabbage into 8ths
Brush with 2 tablespoons olive oil, salt and pepper
Start grill with one hot side and one cold side (coals or gas on one side of the grill only)
Place cabbage on the cooler side of the grill and cook for 15-25 min flipping occasionally.
Once cabbage is tender, combine tomato and reserve olive oil, brush the cabbage.
Grill to char on the hot side of the grill. 2-4 min.
Serve hot. Enjoy with choice of main.